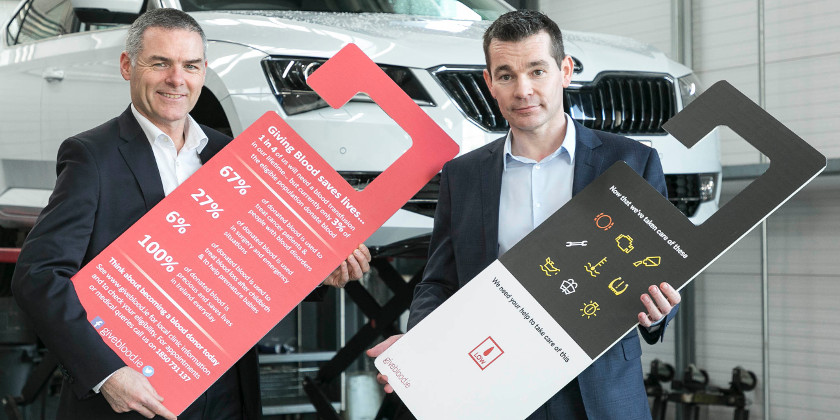 ŠKODA Service partners with the Irish Blood Transfusion Service
New initiative in ŠKODA dealerships nationwide aims to increase public blood donation
New initiative in ŠKODA dealerships nationwide aims to increase public blood donation
1 in 4 people will need a blood transfusion in their lifetime but only 3% of the population donate blood
11th February 2019: ŠKODA Ireland have announced details of their partnership with the Irish Blood Transfusion Service which aims to increase public blood donation. This initiative will utilise ŠKODA dealerships nationwide to encourage people to give blood in their local area. This campaign has been launched during the busy quarter one period in the motor industry where dealership footfall is highest during the 191 registration period. The initiative is designed to support the Irish Blood Transfusion Service in their mission to maintain the national blood supply which currently sits at approximately 6 days.
ŠKODA dealers will display informational videos and blood facts in their waiting areas and ŠKODA drivers will receive information about blood donation in their car, post service. ŠKODA Service will also promote blood donation as part of a national marketing campaign. Over 700 people are employed throughout the ŠKODA dealer network in Ireland, all of which will be encouraged to give blood regularly during the year.
ŠKODA has seen strong growth in sales in the last number of years and recorded record Market Share of 7.3% with 9,126 new vehicle sales in 2018. In addition to footfall through dealerships for new and used cars, ŠKODA dealerships in Ireland will service over 30,000 vehicles this year meaning that Service Centres are busier than ever. It is hoped that the volume from these service customers in particular, will in turn, increase footfall to local blood donation clinics.
Commenting on the partnership, William Lee, Head of Aftersales at ŠKODA Ireland, said: "Quality, expertise and safety is at the core of what we do here at ŠKODA Service. This is why we are extremely proud to partner with Irish Blood Transfusion Service in 2019. One in four people will need a blood transfusion at some point in their lives but yet only 3% of the eligible population are currently donating blood. We are delighted to be supporting GiveBlood.ie and hope that this initiative will increase blood donations from our customers consistently over the coming years and provide a stable and regular supply of blood."
Also commenting was Stephen Cousins from the Irish Blood Transfusion Service. "We are delighted to partner with ŠKODA Service. We know that ŠKODA Dealers aim to not just service their customers' cars, but to also ensure the well-being of everyone that travels in them. We are pleased to see them expand this by helping to encourage blood donations in their local communities"
For more information on when and where to give blood, please visit www.giveblood.ie